Welcome
Our goal is to provide you with the best selection of hemstitched products available.
Products
We currently specialize in the following products:
Unlike our competitors, we serge our flannel products to minimize raveling. Then, we complete the product in one of three ways: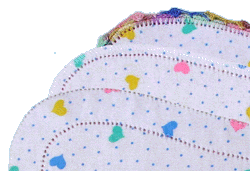 You can crochet it yourself or let us do it for you. Either way, you will have a handmade item with old world charm and quality.
Click on the "Free" Button to view our current free offers!!!
Production Time
We custom make all of our products to provide you with the greatest variety and design choices. Orders take from 1 to 4 days to produce. Please consider this when waiting for your order to arrive.
Shipping
We offer US Postal Service or United Parcel Service shipping. You may choose US Postal Service shipping on all items. However, for bulky items this can be a more expensive option. Items shipped using the US Postal Service are sent First-Class or 2nd-day Priority mail. We use 2nd-day Priority to ship bulky items such as thread and baby blankets. We do not make a profit on shipping and handling. If you are concerned about the cost of shipping, please take advantage of our shipping special.
SHIPPING SPECIAL
Flat $12.00 UPS Ground Shipping on
Orders of $75.00 or More.
Special Applies to Orders Shipped to the
Contiguous 48 United States Only!
Contact Us
Feel free to browse around this site. If you have comments or questions about our products or simply need more information and want to contact us immediately, click on the comments button within the site. Thanks for visiting; we look forward to serving you!
Refund Policy
Within the first 7 days after receiving your product, if for any reason you are not satisfied with your purchase and we cannot resolve the problem, upon return of the product we will refund the sale price. Items must be in the same condition as when received.
We accept:




Hemstitcher.com
A Division of ADSS Inc.
PO Box 1430
233 1st Avenue South
Okanogan, WA 98840
Phone: (509) 422-1174
Fax: (206) 222-1901
Send us email

© copyright 2023, ADSS, Inc., all rights reserved